[cryout-column width="1/3″]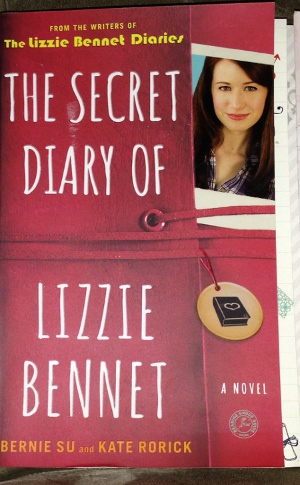 [/cryout-column] [cryout-column width="2/3″] [/cryout-column]    As a treat to myself last week, I bought the Secret Diary of Lizzie Bennet – it is a companion work to the YouTube series, The  Lizzie Bennet Diaries. It is, for those of you not versed in the Austen-verse, a modern retelling of Pride and Prejudice, where the main character, one Elizabeth (Lizzie) Bennet, is a grad student in mass communications, and the video series which end up documenting a year of her life, capturing the trials and tribulations of her own life, as well as her two sisters Jane and Lydia, and her best friend, one Charlotte Lu, as well as her infuriating and confusing interactions with Mr. Bing Lee, his sister Caroline, and his taciturn friend, William Darcy.
I was introduced to the Lizzie Bennet Diaries well after they were complete, and I don't know if that was unfortunate (I didn't get the joy of watching the story unfold "real time"), or a blessing (I got to watch the whole story over the course of one week). And I am not ashamed to admit they bring me great joy to watch. (Why yes, I have read and listened to Pride and Prejudice at least a half-dozen times, and own the 6-hour BBC mini-series starring Colin Firth – why do you ask?) I do love the story, and this retelling is fun, and brilliant, so once I knew the companion book was available, it was a no-brainer for me.
It should also be unsurprising that I read the book in a little more than 24 hours (if I hadn't been visiting family, be assured it would have been consumed much more quickly). I think what the authors of the work did was brilliant – what you are reading is, supposedly, the actual journal that Lizzie keeps. The dates follow along with the posted videos, and I think it enhances the video experience with some behind-the-scenes stuff (extra information about relationships that were too private to post on the videos), and some more insight into the main character.
My first reading was just that, a reading, but I am looking forward to going back to the playlist of videos, and watching them in conjunction with the book. One experience I will not get is reading the book first, or alone, and then watching or discovering the videos. These works, the video series and the book, I feel are both stand-alone pieces that compliment each other (the entries for the days after the two most squee-inducing videos are straight-up transcripts of the videos – a brilliant move on the authors' part), and if you are an Austen fan (or a fan of cool transmedia experiences), I would recommend this to you in a heartbeat.
Now to get myself a red moleskine of my own…