Continued from Life in the time of pandemic – part 1
Context – Updated
Okay, so I started writing this post two days after I posted Part 1. Two and a half weeks later, I realized why I was getting stalled in finishing it. I was going to parallel this portion of the blog with another gallery, screen captures of maps, and stats, and the whole nine yards. I did that. I did that several times, actually, because each day I didn't write this post, but tried to, was another change in the numbers as the virus spread.
So, I'm just going to start by saying pandemics suck. 1 of 5 stars, would not do again.

Let's Break It Down (April 10)
U.S. has the most number of confirmed COVID-19 cases in the world with a total of 459,165, with 16,570 deaths (981,246 cases; 55,258 deaths – Update 4/29)
Worldwide there are 1,524,161 confirmed cases, 92,941 confirmed deaths (Update 4/29: 2,995,758 cases, 204,987 deaths)
Florida has 17,531 confirmed cases, 390 deaths (Update 4/29: 33,193 cases; 1,218 deaths)
Alachua County, 158 confirmed cases, 0 deaths (Update 4/29: 262 cases, 2 deaths)
The US started late on handling the pandemic
The administration didn't take it seriously
Florida issued a stay-at-home directive, finally, on April 1; beaches are still open (or not) at county's discretion (Update 4/29 – beaches closed, but some have reopened with "social distancing" rules, that may or may not be being followed)
Hospitals around the country, around the world, struggle as they lack necessary supplies, enough beds
Morgues are overwhelmed, and hospitals have begun to rely on refrigerated trucks, ice rinks, to handle the overflow of fatalities.
The CDC is encouraging everyone to wear face masks when they leave their homes
States are starting to plan their reopening strategies, Georgia leading the way.
Idiots are still not taking things seriously
Work / Life Balance and Miscellaneous Thoughts
A little more scattered than I'd originally planned, so I'm just going to toss all of my remaining thoughts here
When it clicked –

From social media I know that things became real regarding this pandemic for folks at different times. When massive conferences were cancelled, when cruise ships were being forced to stay at sea.For me the coronavirus pandemic became real when Walt Disney World announced the decision to close their parks.

Fighting vines –

The first week of March we had a water oak taken out of our front yard, along the fence line between us and the retention pond. Since then I've been fighting the potato vines that have tried to take over the chain-link and trees along there. I have new battle scars – scratches on my arms and legs almost every day.

Working from home –

I've been working from home since March 9. I use remote desktop to log into my work computer. In order to distinguish my same 'ol computer where I have my leisure time, I've brought home some of the decor from my office, like the big blotter calendar and colored pens I use with it. It works as a nice physical reminder for when I am at work. I put all the stuff away at the end of the work day.
Cats –
Our three cats were very happy the first two weeks Toby and I were working from home. Now they seem put-out by our continued presence.
Gardening –
I pulled out the viable her plants from my garden, and potted them, and gave some away. I'd planted seeds I'd received from various pen-pals, and transplanted about 2/3 of the seedlings in. Only the watermelon appear to still be thriving. It is too warm to garden in the day, so I mostly do so on the weekends in the mornings, or later after work, near dusk.
FrogSong deliveries
We've been a member of a local CSA (community supported agriculture) for coming on a year now, as they do home deliveries. During our isolation, we've been eating a lot more vegetables than we've ever had in the past.
Cooking
While we've been supporting local restaurants by ordering the occasional take out/ delivery, most of our meals are home-cooked these days. Fortunately for me, Toby is very adept at culinary creation.
Day of the week calendar –
Since I've not been leaving home, I've gotten confused as to the day of the week. The solution I came up with was a 7 page image calendar representing the days of the week that I hang in the dining room.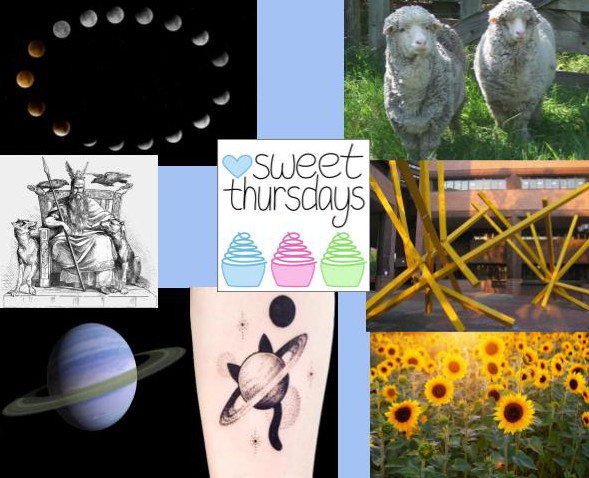 Online offerings
There have been a multitude of offerings online in terms of classes, access to art, and books, and chats with various groups that I'm part of. I'm very excited about it all, but have participated in very few – I've been overwhelmed with the options, honestly

Classes online

I've a subscription to MasterClass ($)- 1/2 way through Neil Gaiman's course on writing; many other authors have courses; and very many subjects beyond writing
Classes from Mary Robinette Kowal I get based on my Pateron support level ($)
Class offerings from Writing the Other ($)
Creative writing classes online via Creative Excellence (Free)
UMEDY course – Editing Mastery: How to Edit Writing to Perfection ($)
Virtual Writing Cruise from The Creative Academy for Writers (free)
Additional courses via The Creative Academy for Writers (free)
Nebula Conference online ($)

Free art online, all the artists

I've gone to author chats and readings with Alethea Kontis, and a concert by Amanda Palmer
Lots of links to museums that I've saved, but not yet visited
YouTube videos of Zoom meetings where musicians or actors perform together, while self-isolating – So many saved, so few watched
Libraries and other content providers opening up access to their collections during the Pandemic

Slack and Discord

I'm member of several groups on Slack and Discord, mostly around writing groups. Keeping up with the chats, the word wars, and the writing dates has been a huge undertaking

Lady Astronaut Club (slack)
Writing the Other Alumni (slack)
Writing Excuses Alumni (slack) – updates with new podcast episodes
Fabulists (discord)
WXR Alumni (discord) – active chat for writing excuses alumni
WXR Scholarships (discord) – I was on the review committee for a writing scholarship – duties done, this channel is now inactive

Bird watching

In the morning, before it's too warm, I like to sit on the back patio and bird watch. We have a hummingbird feeder, a regular bird feeder, and a bench where I put out peanuts for our local crow(s), whom I call "Lovely"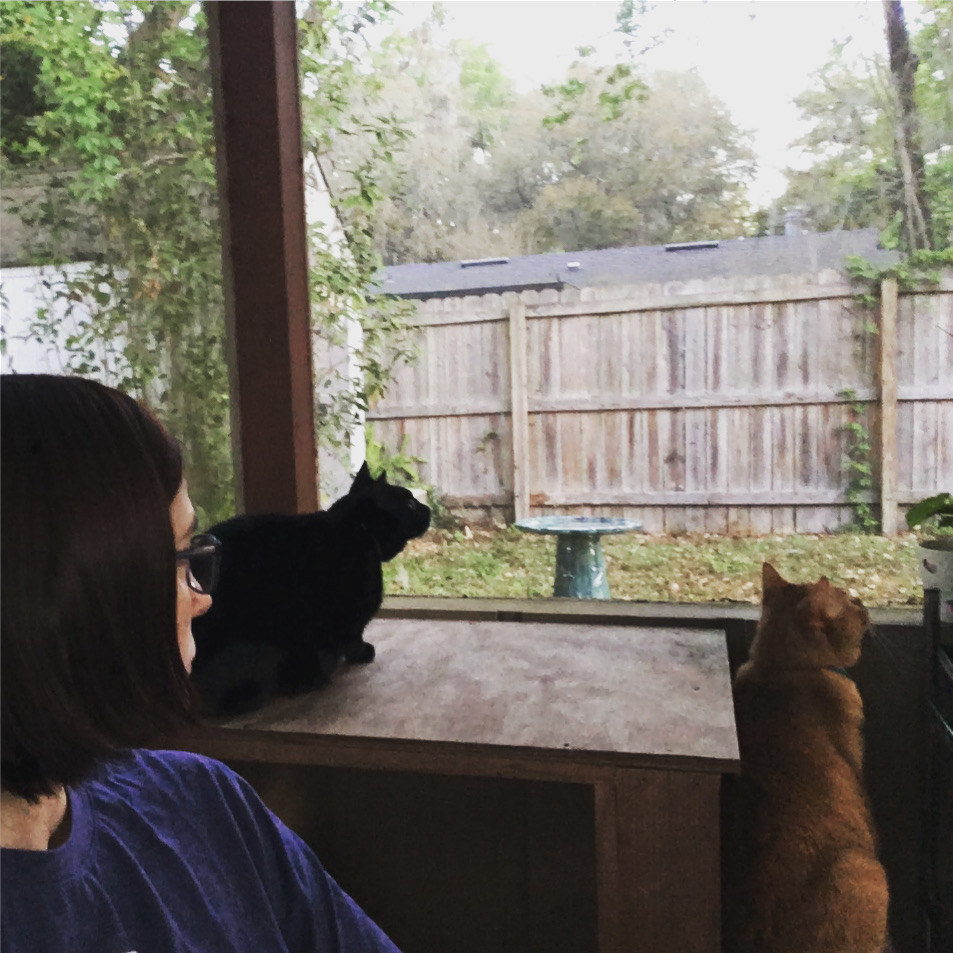 Final thoughts; every time I type COVID-19, I have to double check to make sure I haven't written "CORVID-19." Because one letter makes a hell of a difference.