Someone in my extended writing tribe started a blog to track his writing projects for the year using mountain climbing as a metaphor. I thought it was a neat idea, and the part where he identified the projects he was going to work on to reach his particular word counts/ mountain heights resonated with me.
Now I have numerous lists of various works-in-progress at various stages, but I decided to drafted a new list of all the writing projects I was interested in working on and thought I could make real progress on this year. While I'm not dedicating an entire blog to my goals like Dave is, I am posting my list here so I can a) use it as a touchstone during the year and b) have outside accountability – because if I tell you, my fine readers, what I intend to work on, then there is a chance someone will ask how it's going, aside from the nagging voice of guilt that has camped out in my mind.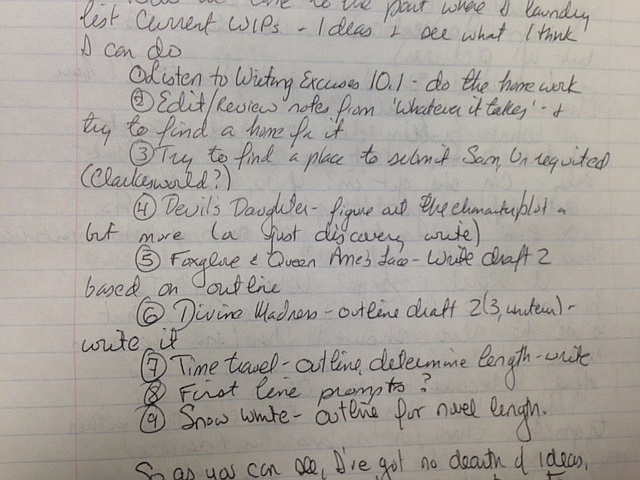 So, here is an updated version of the list I created last week. New additions are in gray so I can keep track of the original list, as well. Let the accountability begin.
listen to Writing Excuses 10.1, do the homework 

[do all of Writing Excuses Master Class exercises for 2015, post on CrushedMuffin]

review critique notes from Whatever It Takes

[~3150 words, urban fantasy(?)]

, edit and try to find a home for it
try to find a place to submit Sam, Unrequited

[identify genre (psychological horror?), ~6,555 words]

(Clarkesworld?)
Devil's Daughter –

[urban fantasy novel]

figure out character/plot a bit more (or just discovery write)
Devil's Daughter world based short story for Baen Fantasy contest (?)
Foxglove and Queen Anne's Lace– write second draft from outline

[YA urban fantasy novel]

Divine Madness – outline draft two (three, whatever) and write it

[Epic/ Quest Fantasy novel]

time travel story – outline, determine length, write

[science fiction]

The First Line prompts ? –

evaluate if I want to write and submit

Snow White retelling – outline for novel length [currently ~12,000 words, non-genre fiction, working title The Redford Reflection]

Post a  piece of fiction each Wednesday on

Presumed Human;

try for new stories, not just posting old work as much as possible

Participate in Alissa's

Finish That Thought

contests as inspired (possible fodder for item 11)

Participate in Chuck Wendig's

Friday Flash Fiction Challenge

as inspired

(possible fodder for item 11)