Esper – 2014
In 2014, Toby and I went to Kodiak and Sitka, Alaska while he was researching the US Russian relations in the Pacific NorthWest.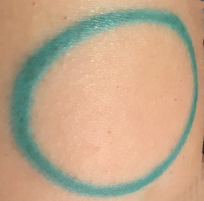 While we were in Sitka, I called my sibling to chat. They mentioned that they had an appointment to get their first tattoo.
I regaled them with our mom's reaction to my tattoo. They were much more certain than I was in getting inked, which I thought was cool.
But it brought up further conversation – there was a piece of art my sibling had drawn, a winged boy named Esper – that I had hanging above my work desk for over a decade – that I absolutely adored, and was considering getting it permanently on my body.
When we returned to Florida, my sib took me in to the artist they'd used for their work at Valkyrie's Tattoo. He took a copy of Esper, and made a few modifications, like widening lines, so it would make a better tattoo.
I was very impressed and pleased that his work was true to color from the original piece, using my ink-less skin tone as Esper's skin tone. I love having this piece of custom art that I'd adored for over a decade on my person, because now I can look at it whenever I want.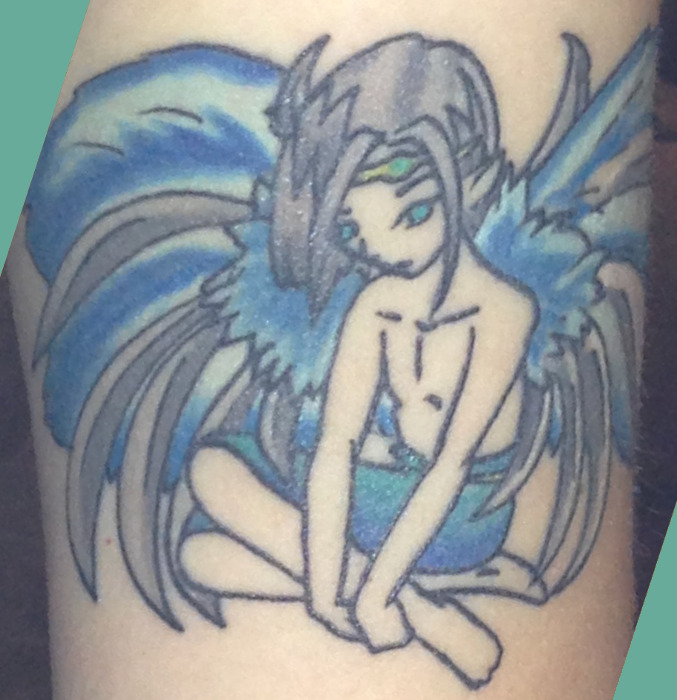 Musings
Our mother's reaction to my first tattoo is part of what solidified the decision to get Esper when I did. My younger sib was getting their first tattoo, and I wanted to be a good big sister, and get one (larger and more complex), so that if my parents were upset or disappointed, they'd have a bigger target with me.
I think both of our tattoos have acted as good visual cues for vaccinations. On my sib they aim for the center of the circle, and I've had a few of mine on Esper's arm.
Both of these tats are on upper left bicep.
I debated the placement of this tattoo for quite a while. I knew I wanted it on my left bicep, and about how large, but I was trying to decide between facing out from my body, or facing forward. I opted for forward, because I was getting the art done for myself to enjoy, and if I'd placed it on the outer edge of my arm, facing out, other people would have a better view of it than I did.
When my sib and I called our parents to tell them of our new art, my mom asked "What did Toby get?" Toby was quick to pipe up "oh, no, no, no. I didn't get one. I'm not the bad influence, here."